Differences between Marketing and Advertising
Company use marketing to create value for customer by providing them what they actual needs and building strong relationships with customer so that they can capture value from customers in return at the future. Marketing is involving in a process that undertaken by a company to design, create and research on how to best align the idea of their product or service with the market.
Marketing requires a lot of market research and analysis. Marketers need to study the response of the audience and create resonance that will best influence their target audience. Therefore, marketers need to define and design their 4Ps: product, place, price and promotion very well so that their product can fit into the market well. Besides, by using slogans and mission statements of the brand that can communicate the "message" of the product are essential to marketing. The message of a marketing campaign needs to clearly communicate that which group of people can use the product, which occasion is best to use the product and other related information.
Advertising is a way that company use it to promote and describe the idea of their products and services to the market. It is a promotion tool to engage with customers and tell the value that marketers create for customers. An advertising campaign can be done through different channel such as Internet, search engine, television, radio, e-mail and print media. It often uses creative positioning in the media. Besides, it must be timely and used in a specifically strategic way to compete with other competitors.
First, you need to know your target customers well so that you can plan an advertising campaign that can be reached to them. An effective advertising campaign uses a mixture of several media to best generate awareness for a product and reach to a larger number and different group of audiences. Besides, the content of the advertisement must can attractive enough so that people can stay and watch at your advertising. Besides, you need to choose the best appeal to effectively advertise your product such as: Informative advertising, Persuasive advertising, Comparative advertising, Reminder advertising. Therefore, advertising can be an effective way to engage, inform, and persuade people the brand.
For example, if the product is targeted toward a younger audience, then social media platforms like Facebook, Instagram and YouTube might be the most effective way to reach them. Besides, the others may respond better to radio, television or print advertisements. Therefore, you may advertise through radio, television or print advertisements as well.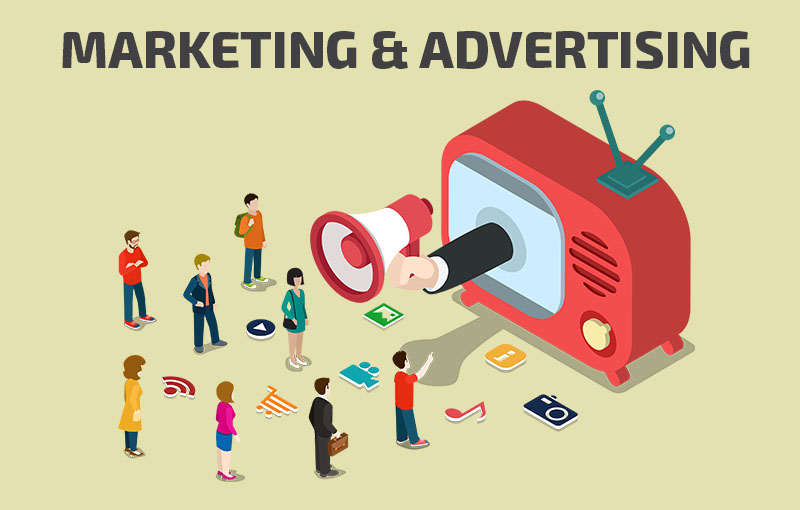 Differences between Marketing and Advertising
Marketing
Advertising
Preparing a product that best fit into the market
Component of marketing mix under promotion
Involves consumer behavior and marketing research
Promote and describe the idea of their products and services to the market
Create values to and capture values from customers
Advertising uses the data and research collected by marketing strategies to best communicate the brand.
Design 4 P's: product, place, price and promotion
Specific to brand communication
Involves creative endeavors like design and multimedia production.
Advertising appeals:

Informative
Persuasive
Comparative
Reminder